Social media and the campaigns that drive brand success, are nothing without the people who make things happen!
Each week we profile one innovative industry executive and get them to answer 12 questions. Then, we share their insight with you!
This week, we meet VCCP Blue's Digital Creative Director – Jonny Watson!
Hello Jonny!
Hey Linleigh! So as you said, I currently am the Digital Creative Director at VCCP Blue, having previously worked at agencies such as Dare, Ogilvy, DLKW Lowe and WCRS.
In a career spanning 25 years, I really have seen it all. From having tennis balls fired at me by Maria Sharapova, to breaking not one world record, but TWO, with a single campaign, having the Prime Minister back another, and helping the Nike Foundation launch a girl band in Ethiopia, I've had quite the history! Looking back… it really wasn't as "dull" as it sounds!
About Social Media In General
1. Which is your favorite social media platform?
Facebook for personal, LinkedIn for business. Facebook is much more responsive, and better for conversations than Twitter. Twitter just seems so much more one-way. It can feel like shouting into an empty room… but maybe that's just me?
I use Twitter and LinkedIn to promote content from the site I run in my spare time – The London Egotist. For some reason I just can't get any traction for it on Facebook. (Help! Haha)
I use Mailchimp to send out a monthly digest from the site, using a list built from my LinkedIn network. I'll play with Snapchat from time to time, but I can't be on all social platforms – I need to leave a little space for real life.
2. Which social platform is used most by your brand/agency?
The main account I work on, is comparethemarket.com. It's tailor-made for social. We use Facebook and Twitter to help drive the narrative forward and link from one campaign to the next. We've got a highly engaged audience – a fair proportion campaigning for the return of Oleg. Their wish finally came true at Christmas!
3. In your opinion, what is the future of social media, and which platforms do you think will lead the way?
Social media will increasingly come to the fore for advertisers. Due to ad-blocking and ad-fraud, the falling away of display erodes the certainty clients used to get from their online reporting.
The challenge for brands is to create work that's more shareable than ever, to achieve the same reach. It's a tricky balance. If it's too branded – or product-focused, consumers will baulk at the idea of being an unpaid advocate.
Whatever happens, Facebook will buy up anyone who threatens its supremacy.
About Great Social Media Campaigns
4. Please tell us about the one social media campaign you liked the most this year 
2016 was the year of 'fake news', 'post-truth', 'echo chambers' and 'filter bubbles'. Never have we found an opposing opinion so hard to fathom. Social media algorithms have inadvertently fostered huge schisms between opposing sides.
The Wall Street Journal created a way to run news from diametrically opposing sources next to each other, so people can see both sides of the argument.
"Blue Feed, Red Feed" might not bring us all back together as one big happy family, but it does allow a glimpse through the barricades into that parallel universe that is someone else's opinion.
5. What about the latest campaign your brand or agency was involved in?
The return of Oleg was a big chapter in the meerkat story for Comparethemarket.com. Social was a critical component, teeing up the TV campaign by teasing Oleg's return with sweet little postcards from Africa – to 'Papa Aleksandr' and 'Auntie Sergei'.
6. What is the most important thing brands and agencies must keep in mind, in order to build a successful social media campaign?
It has to be right for the brand – right for the its audience, and for the right market. Make it shareable – it's free media! In many cases, clients will need to hold their nerve. Be interesting, be entertaining! You're competing with people's friends – friends who can be very interesting and entertaining, unrestrained by guidelines and risk management.
7. In your opinion, which is the most important KPI to watch during a social media campaign?
I always look for Shares and Retweets. For one thing, it shows that users endorse your content, and want to gain social currency by passing it on. Plus, you'll have trouble growing your audience without existing fans and followers sharing.
About The Future Of Social Media Marketing
8. What will be the role of social media in the marketing mix of the future?
As I touched on before, digital display's effectiveness is declining, so social media's role will become ever more important. I still see personalised experiences based on social profiles retaining their potency, especially allied to AR and VR.
I certainly don't see social going away. It's here to stay, because it's based on deeply ingrained human behaviour translated into the digital realm.
9. What would you say is the biggest obstacle within the field of social media marketing?
Budgets and bravery. Clients traditionally think of marketing budgets as one part production to five parts media spend. Social turns that on its head. It's a challenge to convince a client to spend big on production, when the audience numbers aren't guaranteed with a traditional media buy. Red Bull are blazing a trail in that arena.
10. If you had to give one piece of advice to someone who has just started out in the industry, what would it be?
Get the basics right. Pay your dues. Don't be in a hurry to be an expert. By the same token, it's also heartening to realise nobody knows everything. And social isn't an exact science. It's changing every day. There are no absolutes. That's why Ice Bucket and Mannequin Challenges spring up organically, without any help from agencies. One route to success, is to pick a niche and stay in it – learn everything there is to know about it, and own it. Becoming an authority on a topic can turn into a self-sustaining virtuous cycle. Plenty of people have rode that wave.
11. In your opinion, which is the "ad format of the future"?
In the short term, Facebook Messenger looks like a very interesting opportunity for brands and consumers. Brands like Burberry, Uber and National Geographic are already doing great things on the platform.
In the long term, Minority Report wasn't far off when it predicted biometric recognition-triggering personalised/programmatic DOOH advertising based on location, recent social media activity, and browsing history.
The mind-boggling thing is that there's something beyond the Internet. Whatever that might be, as soon as it lands, advertisers will be all over it. Some things never change.
Fun Fact
12. Finally, tell us one thing someone would NOT be able to find about you from looking at your social media profiles.
I once directed a pop promo for The Smurfs. The track was "Our Smurfing Party" a cover of Whigfield's classic, "Saturday Night." It reached number 4 in the UK charts – despite the promo…
---
You might also like
---
More from Interviews
---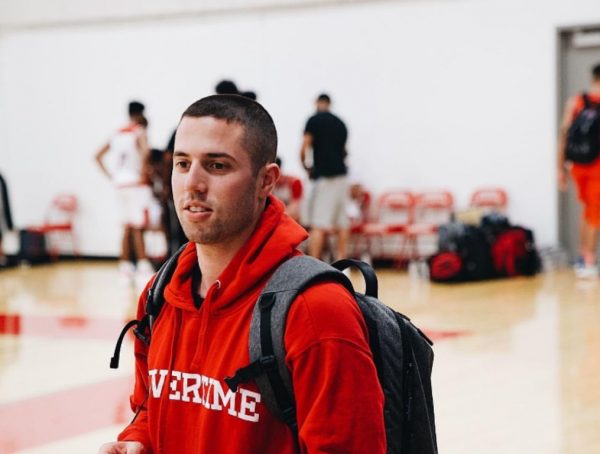 Please welcome this week's 12 Questions Expert Spotlight guest, Head of Social Media at Overtime, Thomas Weingarten.Thomas is an all-in …