We all understand the crucial part, strong innovative leaders play in the development of social media, as well as the campaigns that drive brand success.
Which is why, each week, we profile one industry executive and get them to answer 12 fairly simple questions on their experience and insights into the future of our industry.
This week we speak to Head of Social Media at PR Week's Global Agency of the Year – Weber Shandwick –  Danny Whatmough.
So let's say hello!
Hi Danny!
Let's go ahead and kick things off with learning a bit about him and how he got into the industry.
So, I had a bit of a roundabout way in. I did a music degree and always thought I was going to be a professional musician – that was always kind of my goal in life and then I had always been interested in computers, the web and stuff. My dad was very into computers, so we had always had dial up internet before anyone else. Then, when I was in university, I had quite a few friends that were art students and creating a loads of art. So, in the early days of eCommerce, we thought, maybe we should try selling some of it! So, I kind of cobbled  together a bit of a website for them and we started actually selling their art and then others through this website.
So, at university, I kind of got to this point where I was like I really like the music stuff on the one hand but I've really enjoyed this kind of website stuff that I have kinda been doing. So, when I graduated I actually thought to maybe do that for a little bit and then come back to music. But… I never came back to music – not professionally anyways. so, it was a bit of a sort of random way.
About Social Media In General
1. What is your personal favourite platform social media platform?
You know what… I kind of go hot and cold on different networks from time to time. Twitter was literally my time sync. Previously, I would just spend a lot of time on Twitter. I guess when the industry was still developing, it was a great way to connect with all the professionals and etc. So, I guess I use it up quite a lot from that point of view.
I am a bit of a foodie too, so I was very into Instagram for a while. I did a quite a bit of traveling as well, so made a bit of sense.
But actually, you know what? Now, I find myself really coming back to Facebook in a big way! When I think about my social media habits on a day-to-day basis it is pretty much Facebook. I think the massive shift that Facebook has made has been very successful over the last couple of years. The tweak of the algorithm in favor of publishers is brilliant! And is absolutely where I get all my news. I rarely go to the other news apps. So, I think from my personal point of view, that is kind of interesting. I do think it is interesting in terms of a shift. It has made me see Twitter as a very noisy, slightly confused place; whereas Facebook – God bless algorithms! I feel they serve as a nicely curated place, where I had lots of content that I actually find you really interesting.
2. What social media platform is used most by your brand/agency?
So, we at so Weber Shandwick, our heritage sits kind of on the PR side. But, I think we spent the last five or so years now really kind of building and developing this digital side of our business. Now, about a third of our workforce is digital. So, if we were a digital agency, we would be a pretty significant one. But, we know how to blend that with some more traditional approaches as well.
That said, we still have an earned media mindset when it comes to content. We are not an ad agency thinking about a TV spot, billboard or etc. We are first and foremost thinking about content that actually engages someone. Then, we are using all the other tools that we know about- paid or other distribution channels to then help boost that content to a wider person.
Fundamentally, we are still all about what is the earned story we can tell that would actually get someone to engage. For me, when I think about social media specifically that still feels very powerful. Often, I just see  brands shouting all the time with most of what is being served to me by brands on social, is just not relevant. It is just noise getting in the way. I think you really notice when you are served a piece of content that is truly engaging. You may actually want to spend time-consuming it!
In terms of platform focus, we focus on  pretty much everything, to be honest. We are pretty big agency, working across consumer and corporate. We have a big healthcare team, so obviously we are doing a quite a lot on Facebook and Twitter and Instagram, bits of Snapchat, and etc. We are also doing quite a bit on LinkedIn from a B2B point of view. I think obviously, with PR being our heritage and the influence of space, it is really big for us at the moment. So from social influencers to employee advocacies, we are helping companies to start to make use of their own employee base as a social media distribution channel.
3. In your opinion, what is the future of social media and what platforms will lead the way?
So, it is almost cliché now isn't it? But I think they data side of social media is just huge! We are still kind of scratching at the edges when it comes to that. For me, I think that is absolutely core. Content will always be important. And good content will always be a very key part to social media, but I think increasingly it is a data side that are going to kind of rule the roost when it comes to really good social media marketing.
And, I think the balance will shift a bit. As you know, in our industry, content is the sexy thing. Content is why we all go to Canne every year… it is the stuff that gets all the headlines! But, I think increasingly, it's the data that's the stuff that actually is going to make the difference between a campaign doing really well or a campaign not doing quite so well.
About Great Social Media Campaigns
4. Tell us about one social media campaign you liked most this year.
Seeing as it is election season, I like a piece of video content that was created by the Green Party.  There is so much awful content created when it comes to elections and election campaigns, but this one really stood out. It was kind of these sort of board games as a metaphor and it just felt like something that really understood kind of Internet culture. It was just really natural. When I saw it I served it in my feed on Facebook, it just felt like the sort of thing that you often see getting shared on social already; versus the other slightly more stilted efforts that are out there.
So I have been watching the election stuff on social really carefully. There are even a couple of websites now that you can sign up to, and they will analyze which of the parties is targeting you and the spending and the types of different kind of pieces of content they are using. I think it is really interesting to watch how this election pans out, because it will be the first election where social media has really been used effectively. We saw some of that with the Brexit referendum last year, but I think this is the first time we are going to see it  in a sort of broader election as well.
It is interesting, because Theresa May, did a Facebook live with ITV and Jeremy Corbyn hijacked it by sending in a question himself that was then read out to her on the broadcast. While, she did not look massively comfortable throughout the interview, she looked double uncomfortable when that question was asked! I think that it is very interesting to see how some of these slightly more traditional politicians potentially are trying to use some of these new platforms. And yes… some of seem a bit more comfortable than others.
https://www.youtube.com/watch?v=CzhQzgPHapg
Additionally, as I said earlier, we at Weber Shandwick, work with quite a few brands in very highly regulated areas such as: Healthcare, Financial Services and more. I think for a long time, those industries have always had a bit of hesitation with social media. However, over the last couple of years, they are really starting to realize they can't ignore social anymore. They are going to have to do something. It might be a little bit difficult initially and it may require buy-in to get things up and running, but in the longer term, there are big benefits to be had. So, I think that sort of thing is interesting. I think a lot of consumer brands really understand the importance of social but I think it is interesting when you look into those regulated spaces or even certain B2B spaces, there is still quite a lot of nervousness around it.
5. What about the latest campaign your brand or agency was involved in?
So, we work with Vauxhall, the car brand. and they sponsor all of the nation's football teams here in the UK. So, last year we did a lot of work for them surrounding the Euros tournament. And then, we did a nice campaign late last year to celebrate the England versus Scotland match – which is a bit of rivalry that we used as a backdrop. We are even working with them on something for the Women's Euro tournament.
So, I think it is really interesting to see how brand Partnerships like that take a moment in time (i.e. a football tournament) and make it social. Social brings that brand voice to that space and trying to give through the sponsorship. With lots of access to players and talent giving fans opportunities too kind of interact with their idols through these sorts of channels is really interesting.
So that has been I really kind of fun campaign that we have worked on. We also do a lot more targeted work for them in terms of what you know trying to drive to conversion points and etc. But, I enjoy seeing how we can reinvent some of those brand partnerships, which in the past or probably more of a traditional advertising type of approach.
And as I said, influencers can often play an important role in those partnerships. We did one last year with ex-footballer Robbie Savage. He was going to be in France commentating on a match so we gave a way an opportunity for his fans to watch the game in his mansion up in Manchester. The campaign ran as a Twitter competition where fans were asked to tweet him as to why they deserved to go. With his already incredible following on Twitter it resulted in great content!
Watch England v Wales at Robbie Savage's house with Vauxhall! #GetIN ⚽️

Enter > https://t.co/W8lDfd5F8Dpic.twitter.com/4XEQdyDImD

— PurelyFootball UK (@PurelyFootball) June 3, 2016
I think doing things like that which are a right mix influence brands and the cultural moment in time content is really kind of compelling.
6. What is the most important thing brands and agencies need to keep in mind, in order to build a successful social media campaign?
For me, the thing I always talk about on social media is the fact that we as brands are essentially given an opportunity to have a space – a couple of inches- within someone's personal newsfeed. I feel as though; it is a very difficult thing to get right. We talked earlier about the more sort of traditional push advertising, which tends to get pushed through on social channels. For me, the very best content understands me as a consumer, the brand and the intersection between the two. I think too often, brands are still focused on the message it wants to portray, rather than really thinking about what the consumer wants at that point in time. So, Vauxhall and football is a great example.
Brands coming into conversations which don't feel authentic or natural, will always stand out like a sore thumb. So really, it is about finding a way to bridge those two things; what the consumer is interested in and what you want to say as a brand. For me, those are the campaigns that kind of really stick out and do the best. Sometimes, it is easier said than done of course. We do some work for Unilever, 'All Things Hair', which is a YouTube platform all around and using influencers to serve content on tutorials about hair and etc. I think it is a great example of tapping into a niche market in the right way.  There are millions of searches around hair every year, yet no brands are really giving consumers interesting content in that space. So, that gives you an example of where there is a real consumer need and obviously as a hair care brand and you have an absolute right to play into that space. You have something to bring to the table. And, so by creating content, it answers a bit both; you are actually serving a purpose and you are serving your customer content content that adds value to the consumer.
7. In your opinion, what is the most important KPI to watch during a social media campaign?
I think the trouble with measuring this space – I have seen this time and time again, is there are so many metrics! It is almost overwhelming. I have seen reports for social that are comprised of 50 slides, with God knows how many data points. Firstly, no one is going to read that. Secondly, what do they all mean?! Why is 'x, y, z' meaningful?' What do you learn from it? So for me, it is not necessarily about what is the metric is used, but more about really understanding your objective that you are looking to achieve.
It always amazes me how a few campaigns start with a really clear objective as an outset. For me, that objective is the thing that drives the KPI/s. It might be that you're if your objective is just around brand building, then the KPI could potentially be engagement. But, I think with social media increasingly being used for more of a kind of direct marketing tool, those objectives are going to be more centered around conversions, sales and ROI. At the end of the day, KPIs have to reflect your objectives. But if social media is ever really going to be taken seriously, we need to be able to prove that what we do adds value and delivers.
8. What will be the role of social media in the marketing mix of the future?
It is an interesting question. I guess I've always felt slightly uncomfortable about social having its own box, because I kind of feel like increasingly pervades everything. Therefore, it's quite hard to detach it in many ways; whether it is people watching TV or a screen on Facebook. In a business context, social is being used more and more for recruitment in addition to marketing. Employee Engagement is even becoming increasingly popular. I think with mobile devices you will find that social is going to be embedded in everything that we do. Just look at how WeChat has established itself in Asia; it is the one app that does everything.
So, I think we will get to a point to where it is very hard to detach social, and it will become a seamless part of the user experience. Integration again, is another of those words that is kind of used too often – it has been for years and years and years, but I feel as though the more and more integrated it becomes, the more impressive the results.
I just think as mobile and digital converge continuously, social will play seamless part; especially with things like VR and AI coming into the market. Just look at some of the things that Snapchat and Facebook are doing in that space. I think all of that is powered by social essentially. I think that is why it is so important to have that audience understanding right at the heart and really understanding what are the channels that your audience is using, how are they behaving what is important to them and that sort of stuff is changing very fast and so always really understanding how the audience behave is shifting it has got to be a fundamental starting point for any campaign.
9. What would you say the biggest obstacle is in the field of social media marketing?
I think budgets are still sometimes an obstacle. However, I think we are potentially we are our own worst enemies sometimes. I think and it comes back to the measurement question you asked earlier, increasingly we as marketers and people working in social media, have to get much better at proving the value of what we do. That said, we are certainly starting to see clients shift money from TV and traditional budgets into digital/social, and I think that will continue. However, I think it hasn't happened as quickly as some people thought it would. So, overall, I feel as though there is more work to be done to prove the value that social can bring. Of course, as a marketing director, it is easy to copy, paste from the previous campaign budget, but we have to remember is that things change, trends develop, and these things need to be considered to turn the right profit on what we do. We need to be bold. But also, we need to give our clients the ammunition they need in order to able to take those sorts of decisions efficiently. However, it is equally important to note that these things take time.
10. If you had to give one piece of advice to someone has just started in the industry, what would it be?
I think, the one piece of advice is to really consume as much stuff as you can. I find it amazing, when I interview people and ask 'What is the brand that you think is doing great on social?' tell me about a piece of content that you have seen recently and you really like and it is amazing how many people can say 'Ooo… Red Bull! Innocent!' and I just kind of look at that and think, 'Well… okay, but I think there are so many other interesting companies that are doing really really cool stuff as well!' And that is the great thing about social. It doesn't cost anything to find that out. You can literally get on your phone, open up Facebook and you will see you loads of stuff! So, while yes, it is important to know, 'that Instagram launch a new thing yesterday or whatever else', but I really like it when someone comes in, we have a chat and you can tell they actually live and breathe social media and are generally interested in what they are seeing and what they are consuming.
I think for me, it is also about having an understanding of where you want your career to go with in that industry too. As we discussed already, this is a very broad space and you can do anything from data analysis, to creative, to content creation, or good ol' community management. There are many opportunities and I think the industry is getting to a mature place where we can have deep specialists in those areas. But, as I said before, we are going to need people that can do data better than anyone else can. But that said, I think we are moving from a place where you have people that are just 'pretty good' with social media and talk a good game, to people that really know how to do 'x, y and z' on a really kind of deep level.
11. In your opinion, what is the ad format of the future?
What we are really interested in is doing a quite a lot of experimentation around, two things: buyable content and geo-fencing.
I think that social commerce people have talked about for a long time it has never really taken off, but finally we are starting to get some of the formats that allows us to do that. Instagram and Facebook have launched quite a few new buyable formats recently. There, you can watch or look at content with a carousel underneath of products you can buy.
The other area that we are only scratching the surface on, is when it comes to location; i.e. geo-fencing or even physical locations. The ability to serve people on the spot and target content based on their identity and personal interests/behavior is going to become more and more a thing. I think those are the two areas for the moment where we are doing quite a lot of interesting work with our clients, and I think those are two spaces over the next 12 months are the ones to watch.
Fun Fact
12. Finally, tell us one thing someone would NOT be able to find out about you from looking at your social media profiles?
I was going to say that is quite of limited down quite a lot what I have already told you I guess if I hadn't had fallen into social media then I was going to be a professional opera singer. that was my kind of calling and I ended up doing Facebook and Twitter and Instagram instead.
See you next week starring a guest from Ottawa, Canada!
---
You might also like
---
More from Interviews
---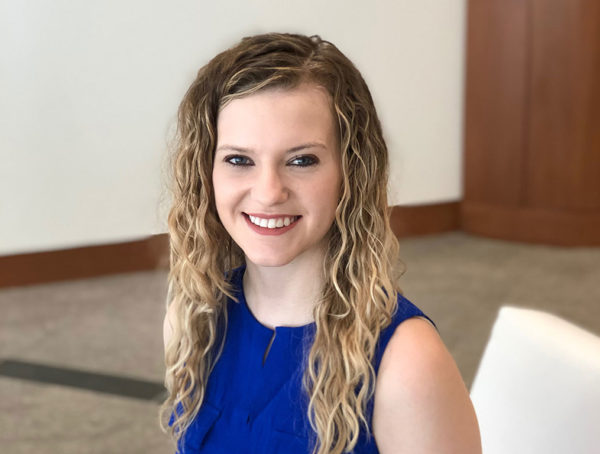 Please welcome this week's 12 Questions Expert Spotlight guest, Social Media Marketing Manager at Forrester (SiriusDecisions Product Line), Claire Kennedy.